Vern and Bella
Vern spent four years in the Navy and served another 16 years in the Army before retiring to the Joplin area. Vern served with multiple tours to Iraq. He is a father of three. Vern and Bella have been graciously sponsored by Petland Charities with the "One of Us" Campaign and their training is paid in full. Thank you to Petland Charities for all of your hard work and dedication and for supporting our mission, as well as Vern and Bella's Journey.
Our newest team, our Veteran Carrie has been paired with a lab puppy due to be born in the next couple of weeks. They are sponsored by Jack Henry and Associates through the "One of Us" Campaign and their training is already completely paid for. Thank you to the Jack Henry Team and we look forward to seeing what you name our newest K9 in the program!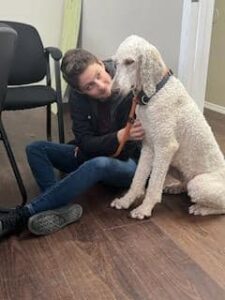 Madison and Gunther
Madison joined at 17 and served honorably in the Marine Corps for four years, stationed at Camp Lejeune, North Carolina. She currently resides in Arkansas where she attends U of A as a Graphic Designs major. Her K9 is Gunther, a poodle who is currently in his first month of service dog training. Currently, they do not have a "One of Us" Campaign Sponsor and could use your help in the funding of their training together. Click to the button on the right to create your own fundraiser for Gunther or donate yourself. It all matters.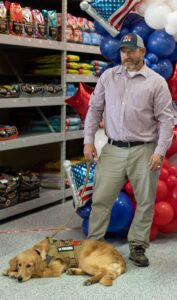 Jimmy and Riley
Jimmy is the Director of Heartland Canines for Veterans as well as a prior NCO and Officer in the US Army, serving three tours in Iraq. Jimmy and Riley are also currently in their 3rd month of service training. They do not have a "One of Us" Campaign Sponsor and can use your help. To set up a campaign fundraiser for them or to donate to their training, you can click on the button on the right. Thank you for your support!